The Second Half of the 17th Century
The cavalry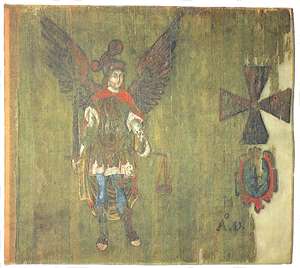 During Wladyslaw IV's reign cavalry banners, of different troop types, were formed into regiments as larger tactical units. Often four banners together, hussars with light or medium cavalry.
During the critical years 1655-62 the numbers of hussars fell to a mere 5-7% while the numbers of light cavalry grew to a rather large proportion. This was because of the ease of raising such typically Polish cavalry from the large noble population (the nobility formed some 10% of Poland's population). It was essentially a medieval and informal type of call up and did not need the high capital outlay of the infantry and hussars (ie. training, equipment, supplies etc). Because of this the numbers of light cavalry were later restricted and by Sobieski's reign they were fixed as a maximum of 20% of the cavalry, with pancerni at 60% and hussars the remaining 20%. Regiments of cavalry were formed in the ratio of one hussar banner to three pancerni, while the light cavalry were formed into regiments of their own, though sometimes with a pancerni banner.
The pancerni and light cavalry often used lances, 2.5-3.5m long, and after 1677 they all carried them. With the hussars being a much smaller proportion of the army compared to during the reign of Wladyslaw, the pancerni became the main heavy cavalry. The pancerni were a very flexible force suitable for a wide variety of roles. The light cavalry were used for reconnaissance, pursuit and harassment. All the cavalry carried pistols and most had bows and muskets although their chief method of fighting was with drawn sabres and lances.
The hussars remained much the same as in Wladyslaw's reign although they now only charged in two ranks. However they began to dress more elaborately and there was a fad for wearing "karacena" armour, which was a type of scale armour. It was said that if the sky fell the hussars' lances would support it, while Maurice de Saxe, the French marshal and military writer proposed the creation of a French cavalry modelled on the hussars.
The infantry
There were three types of infantry;- Polish-Hungarian, "foreign section" and dragoons and table 1 below shows their relative proportions during the period 1633 to 1698. Wladyslaw had formed a modern and independent infantry arm with his reorganisation of the army and from then on the infantry formed around 50% of the army and often up to 60%. Although this is not as high as in Western European armies, this is because of Poland's different circumstances - large open borders to the east.
Polish-Hungarian infantry:
These troops altered little during this period. In the 1660's they changed from their nine or ten rank formation to a six rank one. They were usually recruited from the Southern provinces and real Hungarians were rare. They appeared only in small numbers and usually stood at the Hetman's side. In battle they were usually placed behind the tabor or fortifications and they often formed garrisons in forts. Modelled on theses units were formed units of Cossacks, although they were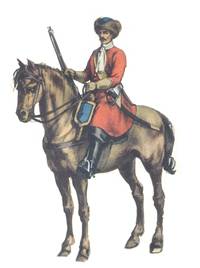 mainly found in private armies. In the 1680's and 90's there appeared units of Janissaries, ie. Polish infantry in janissary style dress and armed with musket and sword. They typically formed body guard units.
Dragoons:
Dragoons were widely employed especially in the open plains of the South where mobility was so important. They remained mounted infantry up until the late 17th century. Dragoon units varied from 200-600 men, although some, such as Czarniecki's, Bockuma's and Potocki's regiments, were up to 1,000 men strong. They carried lighter muskets than the infantry as well as sabres and axes. The dragoons were Sobieski's favourite troops and he often wore their uniform, he also sometimes led them on foot into battle,

such as at Chocim (1673).
"Foreign" infantry:
The large regiments of Wladyslaw IV's period, 1,000-1,600 paper strength in 8-10 companies reduced by 1660's to smaller ones with 600 paper strength, 500 actual in 6 or less companies. The smaller regiments were formed into brigades of 2-3 regiments. At first the "foreign" infantry wore German or Swedish style dress and were in the main officered by Germans, although the bulk of the troops were Polish. By the 1660's most of the officers were Poles and the uniforms also altered so that by the 1670's most "foreign" troops wore Polish style dress. Pikeman's armour disappeared in the late 1650's. They were armed with Dutch muskets, or pikes (ratio 2:1) and rapiers or sabres. In the early 1670's the infantry began to use axes, which were used as a melee weapon, a musket rest and also for the construction of field defences. The length of these axes is not known (the one in the Warsaw Polish army museum seems rather short), but we can assume that their haft was as long as a musket rest (that is at least 1.2 metres), it was carried on a belt and slung over the shoulder. It replaced the musket rest and later also the sabre, however there is no proof it replaced the pike. Although it seems likely the numbers of pikemen was reduced they were still used up until the introduction of the flintlock and bayonet (which began in the 1690's). Grenades became popular and were to be found in large quantities in late 17th Century forts and arsenals, although their use was mainly restricted to sieges. Laskowski mentions Sobieski's introduction of grenadiers in 1667. The infantry's tactics remained similar to those employed by other pike and shot infantry, though from the 1670's their offensive capability was improved with the introduction of axes. Sobieski also introduced the firing of salvos only after the enemy had fired theirs and then charging into contact. They stood in linear formations to maximise firepower, although it seems their battlefield formations were deeper than in Western Europe (to allow the strengthening of the first line with successive lines of fresh troops. In defence they often made use of field defences, especially earthworks as a defence against artillery and cavalry.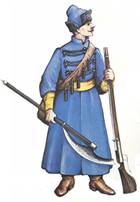 From Wladyslaw's period to Sobieski's the "foreign" infantry was inferior to the Swedish or Dutch infantry, but at least equal to the German infantry. It was superior to Turkish infantry, who lost formation easily, and Muscovite infantry , who though they attempted to follow the western model had little success. The Polish infantry were described, that though in rags they had an incomprehensible doggedness. After the deluge they were, together with the hussars, amongst the most disciplined troops in the Polish army. Dalerac who saw the Polish army during the Vienna campaign wrote "infantry in Poland is generally in a miserable state, worse even then in Spain and Italy. Some are in hats, some in fur caps, some with coats and some without. They lack swords but have two handed axes, which seems to me they use superbly. Soldiers wear the axes slung on their shoulder across their back. Although dressed appallingly these soldiers are indescribably brave, withstanding many hardships, hunger, cold and beatings"
Table 1: Proportions of Infantry Types
| | | | | |
| --- | --- | --- | --- | --- |
| YEAR | FOREIGN | POLISH | DRAGOONS | NOTES |
| 1633 | 65% | 20% | 15% | All mercenaries |
| 1634 | 58% | 22% | 20% | At Kamieniec, large number of private troops |
| 1635 | 77% | 11% | 12% | Against the Swedes in Pomeria |
| 1648 | 9% | 17% | 74% | Peacetime force (not including guard) |
| 1649 | 55% | 8% | 37% | During campaign |
| 1650 | 56% | 10% | 35% | Peacetime force |
| 1651 | 66% | 11% | 23% | During campaign |
| 1652 | 60% | 18% | 22% | At Batoh |
| 1655 | 57% | 15% | 28% | Before the Swedish invasion |
| 1656 | 56% | 14% | 30% | During campaign |
| 1659 | 54% | 5% | 40% | Maximum size of the army |
| 1663 | 70% | 5% | 25% | |
| 1667 | 73% | 5% | 22% | Peacetime force |
| 1673 | 59% | 3% | 38% | During campaign |
| 1676 | 73% | 4% | 23% | After re-organisation |
| 1677 | 68% | 7% | 25% | Peacetime force |
| 1683 | 73% | 3% | 24% | Wartime force |
| 1685 | 74% | 4% | 22% | After reorganisation |
| 1690 | 71% | 5% | 24% | After reduction of the army |
| 1698 | 75% | 5% | 20% | During campaign |
Source:- Historia Piechoty Polskiej Do Roku 1864, by Jan Wimmer (rounded to whole percentages)
The artillery
The ample artillery of Wladyslaw IV's era was largely lost in the defeats of Korsun, Pilawa and Batoh, by 1654 it had been rebuilt to some 600 cannons, but again most was lost, this time during the Swedish invasion. It was only partly rebuilt afterwards and did not reach its earlier large numbers during our period.
The level of training and direction of the artillery was and remained relatively high. Units of infantry and dragoons were specifically organised to protect the artillery, especially during marches. In 1673 a separate regiment was formed, under the command of the General of the artillery, whose role was to protect the artillery.
Fortifications were greatly rebuilt and improved during Wladyslaw IV's reign and field defences played an increasingly valuable part of Polish battle tactics (especially when facing overwhelming enemy forces). However the deluge caused a great deal of damage to fortifications and Poland's bare treasury meant a decline in fortification building and improvements. By 1661 the army could not afford to besiege any eastern fortresses, though it still knew that "the cannon ensures the strength of a fortress and the fortress fears the cannon most of all"(A.M. Fredro).